According to a new Italian review article, the problem with many Q10 products is that the active ingredient never reaches the blood and tissue. Read more about this and what it takes to manufacture a Q10 preparation that is absorbed properly by the digestive system.
Thousands of studies have been conducted with coenzyme Q10, a vitamin-like compound that we humans have inside the energy-producing mitochondria of our cells. Surprisingly, only some of the studies have shown convincing outcome. Is there a reason for that? Well, according to a large review1 that was published recently in the science journal Antioxidants, part of the explanation may lie in the fact that only few Q10 preparations are absorbed properly and can actually vouch for their quality.

1) Antioxidants 2020, 9, 341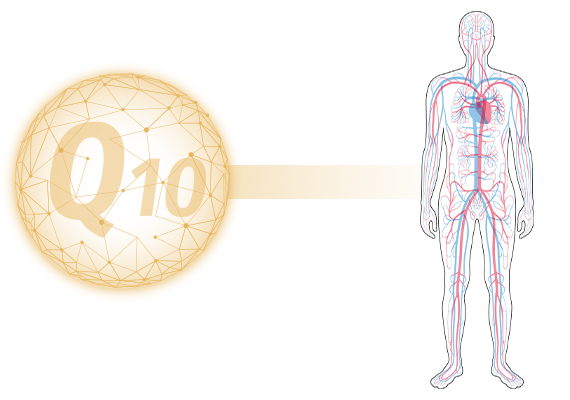 The body has difficulty with absorbing Q10
In their review article, the Italian scientists point out that coenzyme Q10 inherently has poor bioavailability. Most of the ingested coenzyme Q10 is likely to pass right through the digestive system without making it into the bloodstream and reaching the different tissues. The only way to address this problem is by improving the bioavailability of the compound.
Unable to pass through the intestinal membrane
In brief, the challenge with coenzyme Q10 is that the molecules aggregate and form large insoluble crystals that are unable to pass through the intestinal membrane into the bloodstream. Instead, the crystal formations continue through the digestive system and are eventually excreted.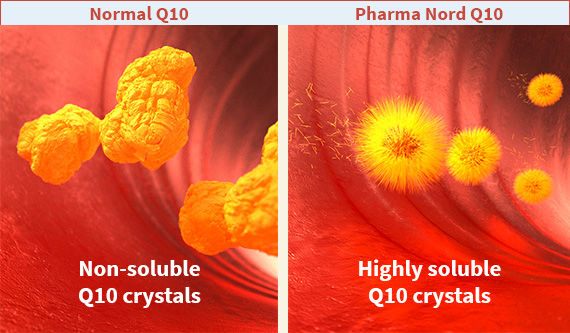 Pharma Nord has solved the problem
Pharma Nord is one of the few companies that has successfully managed to develop a crystal-free formula. Once the ingested Q10 capsule dissolves in the stomach, the free and unattached Q10 molecules are able to pass directly through the intestinal wall and enter the bloodstream. The secret lies in a patented manufacturing method that involves mixing the coenzyme Q10 raw material with a special oil and exposing it to a heat treatment.
Documented in groundbreaking study
The formula that Pharma Nord developed has been shown to work. In fact, it was used in a study that the Italian researchers refer to as "one of the most important studies of nutraceuticals". Q-SYMBIO, as this groundbreaking trial is named, was published in Journal of the American College of Cardiology (JAAC) in 2014. The product that was used is called Myoquinone and it is one of the Q10 brands that is included in the above-mentioned Italian review article.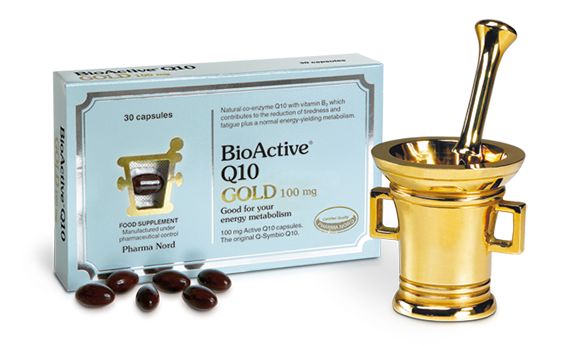 Official benchmark of the ICQA
In a comparative study of over 30 different Q10 brands that is shown in the Italian review article, Pharma Nord's Q10 formula is listed as the product with the best bioavailability. In addition, more than 100 published studies serve as documentation for the superior absorption of Pharma Nord's Q10 formula that is the official science reference of the International Coenzyme Q10 Association (ICQA). The ICQA is the organization that coordinates all Q10 research worldwide.