Elderly people, who take a combination of BioActive Selenium & Zinc and BioActive Q10, appear to get long-term benefits from their supplementation, according to a 10-year follow-up of a Swedish study with these two nutritional supplements.
When Swedish researchers originally set out to test the effect of supplementing with the two nutritional supplements, BioActive Selenium & Zinc and BioActive Q10, on a group of elderly men and women, they were very surprised to discover the amazing effect of the two products. Now, 10 years after the original KiSel-10 study was terminated, the scientists, headed by Urban Alehagen, a cardiologist from the University of Linköping, Sweden, have observed that the benefits of selenium and coenzyme Q10 persist. The group of participants, that were originally assigned to four years of supplementation with the active treatment, still fared better than the group taking placebo – or "dummy pills".
Energy, immune defence and well-being
What is it that BioActive Selenium & Zinc and BioActive Q10 do? Well, BioActive Selenium & Zinc contains selenium in the form of a highly bioavailable organic selenium yeast. Selenium is known, among other things, to contribute to normal function of the immune system, which is a very important feature, especially as you grow older. BioActive Q10 contains high-quality coenzyme Q10 and vitamin C, which helps to reduce tiredness and fatigue. For elderly people, it is most rewarding for their quality of life, if they feel energetic and are able to cope in their daily life.


Stronger hearts and fewer hospital visits
Since the publication of the KiSel-10 study in the International Journal of Cardiology in 2013, seven follow-up studies have been published in various journals with additional findings extracted from the original data. The material lends support to the probability, that the selenium and coenzyme Q10 treatment improves quality of life in the elderly.

Lack of selenium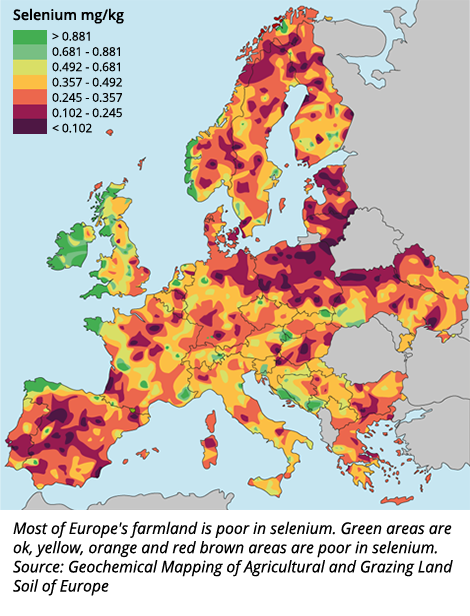 One thing that Alehagen and his team of scientists have found, by analysing the many blood samples that have been stored, is that there seems to be an unsettlingly low selenium status1 among the elderly.
Before the participants started supplementing in the first study, selenium levels in the blood were 67.1 mcg per litre, which is lower than what many experts recommend.
A European problem
Sweden is not the only European country with low selenium. In fact, large parts of Europe have the same problem due to nutrient-depleted agricultural soil.
In Finland, the selenium status was so low at one point (in the mid-80s), that the government introduced mandatory selenium-enrichment of all fertilizers to correct the problem. In the United Kingdom, the selenium intake has been reduced by over 50% in the past three to four decades.
1Int J Cardiol. 2013 Sep 1;167(5):1860-6