Your address may reveal your vitamin D status
The difference in vitamin D status between people living in the sunny south and those from the cold regions of the north is far from predictable. Neither is the difference at local level. A team of scientists looked closer at the individual differences among Dubliners and found notable fluctuations, depending on where people lived.

There is a number of factors that make some people more prone than others to lack vitamin D: age, skin color, obesity and the time of year, to mention a few. Where you live can also make a difference, according to a study published in the science journal "Nutrients". Here, scientists from Mercer's Institute for Successful Ageing (MISA) and Trinity College Dublin used geo-mapping to visualize vitamin D levels in Dublin and East Leinster.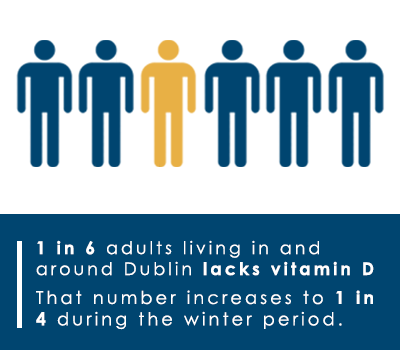 Many people lack vitamin D
Regardless of age, the population from Dublin City and West Dublin had the lowest vitamin D levels. Overall, these areas also have the greatest number of people that were decidedly vitamin D deficient.
Needless to say, the situation was worse during the winter. One in six adults living in and around Dublin lacks vitamin D – and that number increases to one in four during the winter period.
The problem is made worse by smoking and obesity
The difference in vitamin D levels, according to the researchers, is rooted in different conditions. People in from certain parts of the city are more likely to go on holiday to sunny places. Those living in densely populated areas seem to be struggling more with problems like obesity and smoking. Having dark skin is also something that reduces your ability to synthesize sufficient amounts of vitamin D.
Youngsters spend too little time outdoors
Another factor that is likely to cause vitamin D deficiency is age. In fact, the oldest citizens had much lower blood levels of vitamin D. On the other hand, the scientists were surprised to find that the youngest group of participants – those aged 18-39 years – were equally low in the nutrient.
The researchers claim it is down to the fact that young people spend far too much time indoors. Because of that, Dr. Kewin McCarrol, one of the authors of the study, highly recommends taking a vitamin D supplement during the winter in order to avoid a deficiency.
Supplement when required
BioActive D-Pearls is a vitamin D supplement that is available in several different strengths. That way, you can take smaller or larger doses according to the weather, the time of year, and the amount of sunlight that you get exposed to.
The capsules contain biologically active vitamin D3 in cold-pressed olive oil in small, soft, gelatin "pearls" that are manufactured in Denmark in accordance with strict pharmaceutical guidelines.
BioActive D-Pearls is available in three strengths on the Irish market: 5 micrograms for children, 38 micrograms, and 75 micrograms.