When the scientists first noticed the surprisingly low vitamin D readings, they thought the machines they used to analyse the test results were not calibrating properly. Read on and find out why vitamin D deficiency is so widespread in Ireland and what you can do to boost your vitamin D levels.
In Ireland, just like in many other parts of the world, people who spend too much time indoors, are dark-skinned, wear veiled clothing, or simply avoid the sun are likely to become vitamin D-deficient. Now, scientists from Letterkenny University Lab report that people living in Donegal County have alarmingly low blood levels of the nutrient. After examining 10,000 vitamin D test results, Dr. Coyne, an osteoporosis specialist, found that 75% of the samples tested had insufficient vitamin D levels and 12 percent were extremely low.
Supports the immune system
Studies from all over the world, even from countries with plenty of sunshine such as Italy, Hungary, and Portugal, show that people of all ages have difficulty with getting enough vitamin D. The "sunshine nutrient" as it is also called, plays a vital role in health and is required for normal functioning of the immune system. We also need vitamin D for building and maintaining normal teeth and bones and for normal muscle function.
People avoid the sun
Sunshine is our primary source of vitamin D, and some experts blame the sun awareness campaigns for contributing to the widespread vitamin D insufficiency problems. The problem is only made worse by the fact that humans living at northern latitudes, are unable to synthesize vitamin D in the skin during the winter period, because the sun sits too low in the sky.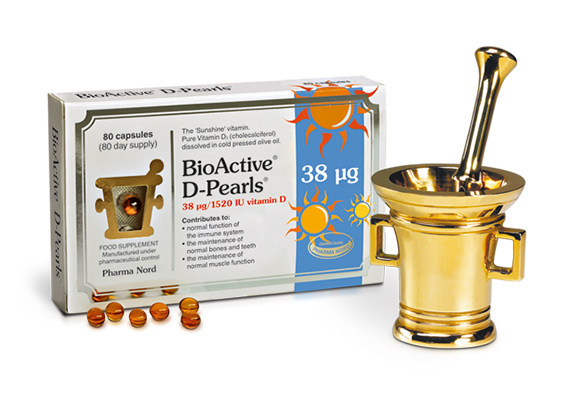 Supplements may help
Although there is not all that much vitamin D in our diet, the better sources include oily fish and egg yolks. Another option is to take a supplement like BioActive D-Pearls that contains biologically active vitamin D3 in oil. This formula has extremely good bioavailability, according to published studies. One study was conducted on young school pupils and looked at vitamin D levels and mental performance, while the other study was carried out on athletes and looked at muscle function.