THE RESEARCH DATABASE — PHARMA NORD'S FOUNDATION
Pharma Nord's research department is always at the forefront of the latest international nutrition science. Scientific studies and articles are carefully registered and catalogued in the most comprehensive research database of the industry, currently holding more than 9,000 scientific references. A considerably amount of these studies has been conducted using Pharma Nord's own products. The research database is continuously revised whenever new studies of relevance to Pharma Nord's products are published. The research department's library is a vital tool for developing new products and improving existing ones.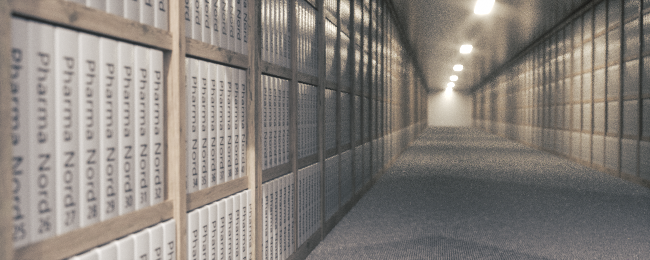 200 PUBLISHED STUDIES WITH PHARMA NORD PRODUCTS
Besides the many scientific articles and studies used by Pharma Nord as a foundation for developing new products and improving or updating those that already exist, the company has conducted over 200 published studies with products of its own. This research is the cornerstone of the entire documentation that is so vital for the success of Pharma Nord's products. New titles are continuously added to database.

SCIENTIFIC DEVELOPMENT
Over the years, Pharma Nord has established a comprehensive international network of scientists in areas such as cardiology, oncology, odontology, surgery, dietary technology and several others. This collaboration, and the ongoing dialogue with researchers, is an extremely important tool for the development of our products.

PHARMA NORD AND HEART RESEARCH
Pharma Nord actively supports science in its efforts to uncover new therapies for heart diseases, particularly those therapies aimed at increasing quality of life in people who, due to old age or disease, suffer from a lack of coenzyme Q10. Among other things, Pharma Nord has launched Q-SYMBIO, a large multinational study, investigating coenzyme Q10's potential as an adjuvant for treating chronic heart failure.

PHARMA NORD AND CANCER RESEARCH
The battle against cancer is one of the most challenging areas of medical science. Pharma Nord is actively involved in international research in cancer prevention and treatment. One of the largest and most ambitious science projects ever in this area is the international PRECISE study that focuses on the preventative properties of the trace element selenium. Pharma Nord is the official supplier of selenium tablets and placebo pills for the entire study, a population study involving 40,000 test participants from Denmark, Sweden and England.

REFERENCE PRODUCT
Because of its good and well documented bio-availability Pharma Nord's coenzyme Q10 preparation is a reference product for the International Coenzyme Q10 Association and has been tested in more than 70 studies. This research is one of the main reasons why the preparation is able to document such a high level of bio-availability. What is more, the fact that it has been on the market for close to 20 years provides good safety data for the product.

CONFERENCES & SYMPOSIUMS
In some areas the amount of new science surfaces so frequently, it pays off to arrange regular symposiums, where scientists from all over the world gather to present the latest scientific breakthroughs. In many cases, Pharma Nord hosts or co-hosts such events. So far, scientific symposiums and conferences have been arranged in research areas like Q10, CLA and selenium.

THE EXPERIENCE OF THE CONSUMERS
Consumers make their own experience and this is of invaluable importance to our existing and future products. Although consumer experience can hardly be classified as "scientific documentation" it still gives a clue as to whether or no the preparations have an effect and are generally safe to use, short- or long-term. For this reason, Pharma Nord regards every type of consumer feedback as something of enormous value, and actively encourages consumers to contact the company if there is a story to tell.